You can speak as many foreign languages as you like – if you cut yourself shaving, you will revert to your mother tongue.
Eddie Constantine (1917-93)
Swiss certification authority for language services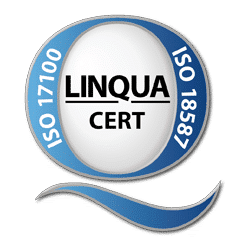 The name is composed of the Latin terms "lingua" for language, "qualitas" for quality and "certa fides" for certainty.
With certification according to ISO 17100 and ISO 18587, your customers can be sure they will always receive top quality translations by the agreed deadline.
In cooperation with expert certification partners, LinquaCert also offers combined certifications – for example with ISO 9001 or customer satisfaction.
Certificates create trust
A translation is a matter of trust, but also a question of quality. It's all too easy for clients to lose the lay of the land, with the multitude of vendors available. One criterium in the selection of a translation-service provider is ascertaining the standards of quality by which they work. These can be shown, for example, with certification.
Both the ISO 17100 and the ISO 18587 certification allow you to prove your high translation standards through an independent verification . For our part, we're standing by with our specialized knowledge and experience.
We'll accompany you on the path to certification, issue the certificate and remind you when it's time to renew. Thanks to our efficient process, certification demands as little time investment as possible, on your part.
Win clients over with ISO certification
ISO certifications are important marketing tools that will simplify your client search. ISO certificates follow international standards and will serve as proof of that on your website and your marketing channels.
With our ISO 17100 and ISO 18587 certificates, you'll have an internationally recognized and convincing selling point to take to new clients.
Having an ISO 17100 certificate puts you at an advantage when applying to jobs on the open marketplace. Many workplaces and institutions even require it as a prerequisite for a position.
In a job market that is increasingly populated by machine translations, you will stand above the crowd for potential clients with an ISO 18587 certificate. This certification shows that you can deliver high-caliber translations with a quick turnaround without sacrificing quality. It will set you apart from other applicants who cannot offer this type of standard.
Your path to an ISO certificate
We offer assistance every step of the way towards certification. It is our goal to prepare you for the requirements from the beginning right through to the successful completion of an ISO audit.
Thanks to our partnerships, we can also offer other ISO certifications as part of the audit, such as the ISO 9001.
Our specialists have years of experience in this process and their competencies are proven by our diverse client base. In an initial consultation, we will explore which certificates are suitable for you and how we can best assist you during the certification process.
LinquaCert Certifications
LinquaCert is a certifying institute for ambitious translation service providers. Certification acc. to
ISO 9001:2015 for translation providers (TÜV SÜD) Delta Audit
ISO 17100 -> ISO 9001:2015