You can speak as many foreign languages as you like – if you cut yourself shaving, you will revert to your mother tongue.
Eddie Constantine (1917-93)
Swiss certification authority for language services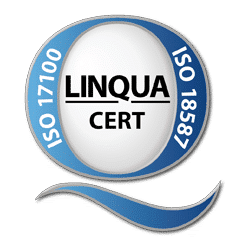 The name is composed of the Latin terms "lingua" for language, "qualitas" for quality and "certa fides" for certainty.
With certification according to ISO 17100 and ISO 18578, your customers can be sure they will always receive top quality translations by the agreed deadline.
In cooperation with expert certification partners, LinquaCert also offers combined certifications – for example with ISO 9001 or customer satisfaction.
LinquaCert Certifications
LinquaCert is a certifying institute for ambitious translation service providers. Certification acc. to
ISO 9001:2015 for translation providers (TÜV SÜD) Delta Audit
ISO 17100 -> ISO 9001:2015