About our certifications
Effective immediately, the new LinquaCert certifications will now include an Internet link which will pull up a clear description of the respective test criteria. This provides those interested with even more information concerning the test content.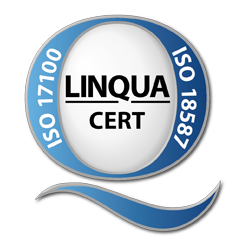 If you use our quality symbol for consumer advertising, then we strongly suggest that you only use the new LinquaCert quality symbol with said link. Otherwise, you may receive a warning from consumer protection agencies or face legal action from third parties for violating competition law (UWG).
If you use quality symbols which do not include this link, please ensure that the www.linquacert.com/basis is used as a reference.
Certification:
Management System Certification/Voluntary Examination.
Basis for Examination:
International Standard ISO 17100 and ISO 18587.
(requirements for translation services as well as requirements for the post-editing of machine translations).
Standard legislature:
ISO International Organization for Standardization.
What do the ISO 17100 and ISO 18587 standards entail?
The ISO 17100 and ISO 18587 standards define the requirements for companies' certifiable procedure management. These include, among other things:
With an overview from us of the most important test criteria, you and your clients are making a sure bet. You will create transparency; at any time, you can point to the requirements you fulfilled with your certification.
With a single link, your clients get rapid and easy access to the document and can form an accurate picture of the most significant content of the certification and the basis for the ISO norms.
As a certified translation service provider, you will thus be legally protected and can refer to us as the certification authority.
Further information on certification
For the ISO 17100
Available resources:
The translators employed, their specialized qualifications, and the experience they bring to the table
Editing:
Who edits and corrects the texts?
Project management:
How is the project manager integrated and what responsibilities do they have?
Subcontractor:
What qualifications do third parties working on the projects have?
Technical infrastructure:
What software is used?
How is IT security guaranteed?
Production set-up:
How are queries answered and offers made?
Production:
In-depth examination of the processes for translation, editing, technical review as well as proofreading and release
Production follow-up:
How is client feedback handled and what are the final administrative processes?
For the ISO 18587
Here again, preparation, editing, and follow-up are examined separately and the individual steps tested for conformity with the ISO norm.
In the case of competencies, these include the general qualifications of the language service provider (LSP), the technical qualifications of the translating parties, and the overall professionalism of the service.
Important for certification are the workflow and the quality of the processes in place. Project management is the centerpiece here.
The audit covers, among other things,
Determination of the most essential requirements and project specifications during the pre-production process
Compliance of the process and specifications during the entire production
Oversight of the preparation for the translation project
Appointment of one or more competent proofreaders
Distribution of information and the issuing of instructions within the context of the order
Verification of fulfillment of translation service specifications before the translation is approved and released back to the client