The certification authority organizes all aspects of the LinquaCert Quality Management System based on the international accreditation standard ISO/IEC 17021. The certification authority guarantees impartiality in the conduct of certification activities and eliminates potential conflicts of interest.
Structure and roles are documented in a process model. Functions with duties, responsibilities and authorities of management and certification staff are clearly assigned.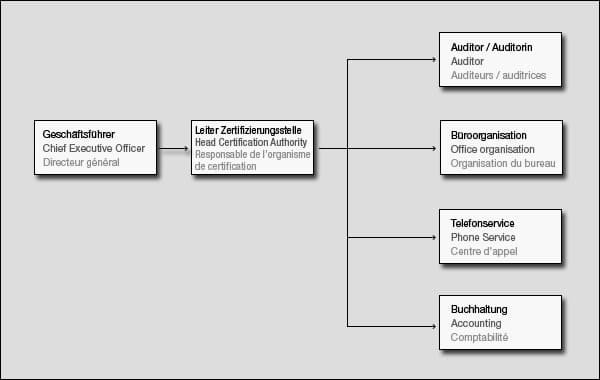 The certification authority is of central importance
At the crux of the structure of a concern like ours, one that administers certifications, is the certification authority. This must be integrated into the organization at a very particular point, one that guarantees the utmost level of transparency and independence. This point is located between the management and the other areas of the organization.
While the senior management is concerned with strategic and financial matters, the certification authority attends to the examination itself, to certificates and audits. Those responsible for this office must maintain an impartial position. The primary responsibility consists of quality assurance. The certification authority ensures that the described processes are adhered to in accordance with ISO 17021.
The certification authority is superior to auditors and other units of a company in the field of management-system certification. It is accountable only to upper management. 
Specifications of ISO 17021
ISO 17021 requires that the tasks, competencies, and areas of responsibility of the certification authority are precisely defined and laid out. We can demonstrate at any time which authorities are assigned to which positions and how they are involved in the certification processes.
Each of our certifications of a translation service provider follows a defined process that is ISO-compliant. LinquaCert's internal structure is based on these standardized specifications. 
Our process model clarifies what the internal procedures are for the certification process. Each step is documented, and for the procedure itself we must demonstrate that each process step has been completed. This far exceeds a checklist: At LinquaCert, we are guided by modern, international procedures and structures for the evaluation of management systems.
Certification of a management system and its underlying structure provides independent evidence that the organization's management system:
meets the specified requirements;
is capable of consistently applying its rules and requirements;
achieves the defined objectives. 

At LinquaCert, we meet these conditions and have established the necessary organizational structures to meet this international standard. With the certification authority, we have established a level of operation that not only serves as a quality control, but also as a guarantee that there are no conflicts of interest.